Christmas 2020:
Christmas at Woodgate Beach Houses is gearingup to be a huge one.  After the devastating bush fires last year, this year has proven to be an interesting one wouldn't you agree?  The resort is fully booked from the 21st December until the second week of January. If there is no availalbity showing on the website, give the office a call 0741265441 in case there has been a cancellation.
Now with borders opening we are looking foward to welcoming our southern guests again soon. We have missed our Victorian and New South Wales guests.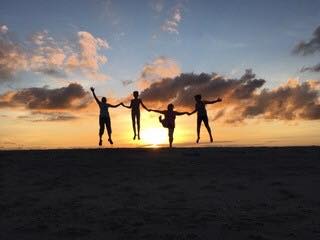 Woodgate Beach: The 16 km of stunning beach offers a place for everyone.  Why not save all the packing hassle and call Woodgate Beach toys to hire push bikes, paddleboards, kayaks and even outdoor games to keep the whole family occupied.
Did you know Theodolite Creek offers the best place for a paddleboard or kayak?  Its so unique to our region with silica sand reflecting throught the stunning clear teal waters that houses fish stingrays and so much more. Snorkelling around the mangroves is highly recommended.  Maybe you will luck upon one of those glassy days and paddle board the length of the Esplande. Give it try!
Venture Further out of town: There are many four wheel driving opportunies in the area. On the beach south of 12th Avenue for a glorious 8 km you can drive along our pristine beach.  A little more game? Why not travel Kinkuna section of the Burrum National Park?
Bundaberg Region: We have so much to see and do in our region, don't forget to plan your holidays complete with a visit to the Bundaberg Rum Factory, Bundaberg Brewed drinks and round off your day out at the Interanationally awarded Kalki Moon.
Day trips to Lady Elliot Island and Lady Musgrave are must do to put on your list.
Why not take the kids for a night out and experience the Turtle hatchings at Mon Repos.
Lots to do and see here in our region so make sure you holiday here this year!